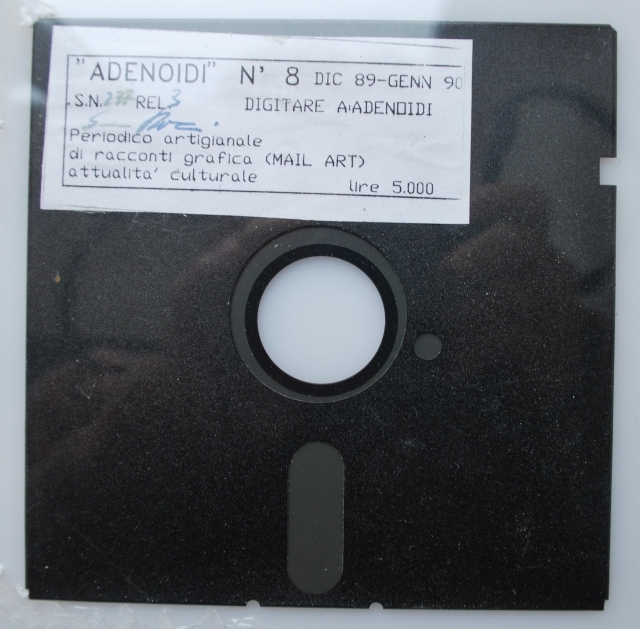 N.B. RIELABORATO per perugiamusica DALL'ORIGINALE IN DOS - 20110725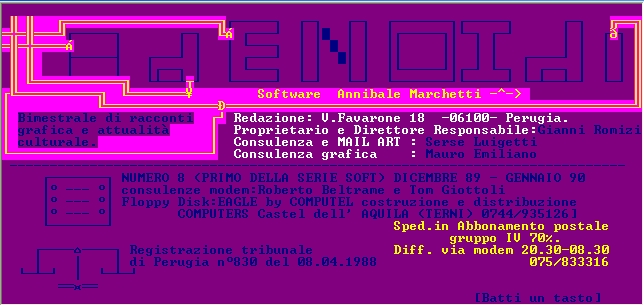 NO LIMITS OF LANGUAGE

ADENOIDI: a TWO MONT
ARTISAN REVIEW OF STORIES
GRAPHIC(mail-by soft-art)
& varius REALITY that
speed

This is the soft ADENOIDI Questa e' ADENOIDI soft
ADE is an opened project ADE e' un progetto senza limiti
all what can be in a 360K tutto cio' che di grafico o lette-
floppy is our graphic or rario entra in un floppy da 360K
literature interest ci interessa
by mail we can send via posta iviamo al massimo un
only a 360K floppy but dischetto da 360K ma via modem
if have a modem meet us possiamo trasmettere la versione
at the 075 833316 (italy) estesa della rivista(075-833316)
from 01.02.1990 a partire dal 1' Febb. 1990
between 8.30 pm to 8.am dalle ore 20.30 alle 8.30
Italian local time
NO LIMITS OF LANGUAGE
ADENOIDI: a TWO MONT
ARTISAN REVIEW OF STORIES
GRAPHIC(mail-by soft-art)
& varius REALITY that
speed
Tavernelle next Nestor Perugia Italy 15.12.1989
GIANNI ROMIZI
(the editor)
p.s. in the floppy we have scanned some graphics that you can
see using program like Windows. If we have compress them
you can find one file.bat to explode them.
p.s.
la grafica e' leggibile con programmi tipo Windows, nel caso
l'avessimo compressa per farla entrare in un dischetto ci
sara anche un file.bat per esploderla direttamente nel
vostri hard disk.