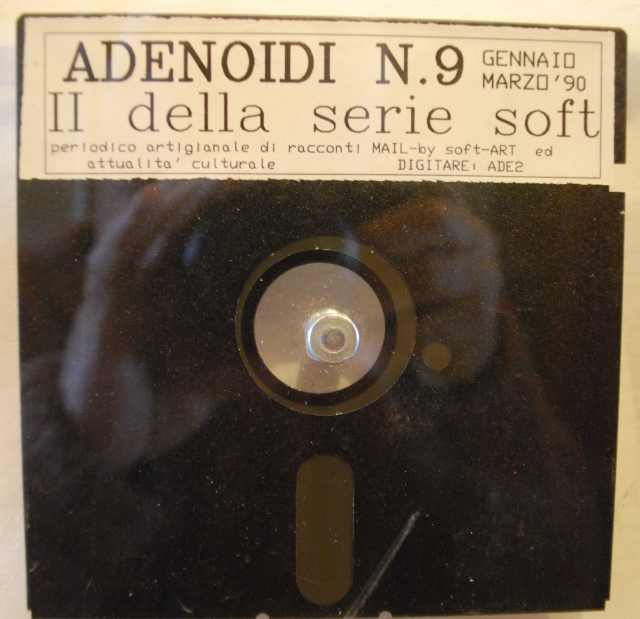 N.B. RIELABORATO per perugiamusica DALL'ORIGINALE IN DOS - 20110725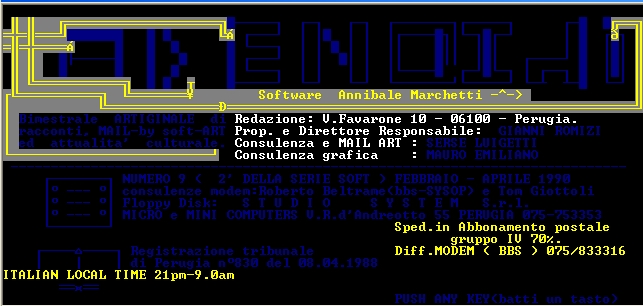 NO LIMITS OF LANGUAGE
ADENOIDI: a TWO MONT
ARTISAN REVIEW OF STORIES
GRAPHIC(mail-by soft-art)
& varius REALITY

I HOPE THAT YOU CAN SEND US SPERO CHE CI INVII UN TUO
YOUR FEELING WRITTEN IN SCRITTO IN ASCII
ASCII OR ON PAPER O SU CARTA
LITTLE NOVELS, "HAICU'" & MAIL-by soft-ART IS OUR INTEREST !!!!

WE WANT MOVE IN THE PLANET VOGLIAMO MUOVERCI NEL MONDO
WITH A STORM OF STORIES CON UN TURBINE DI STORIE
IN A WAVE OF LINGUAGES IN LINGUE DIVERSE
WE MAKE ALSO: TRASFORMIAMO LA MAIL-ART
MAIL - by soft - ART IN TRACCE MAGNETICHE DA
LEGGERSI SUL VIDEO

on this issue,short tales from: in questo numero racconti di:
GIORGIO PALIAGA-GIULIA SQUADRINI-MARCELLO DIOTALLEVI-G.R.-CORRADO GUZZON-
MICHELE PERFETTI-SALVO NUGARA-FRANCESCO TANCINI-ALESSANDRO RAMALLI-
ALESSANDRO NADALINI-SALVATORE DE ROSA-MNEMOSINE-GLEN PROVENZANO-PAOLO
PETRINI-ASMUR JONSSON-LAURA CORSO-GIANNI DONAUDI-ALDO ZOLFINO/GABRIELLA
CUTOLO/ANTONIO FRANCESCHELLI/LUIGI PETROSINO

MAIL by soft ART from: MAIL by soft ART di:
RUGGERO MAGGI-MARCELLO DIOTALLEVI-SAVAL-ENZO SCHIAMAMOTO/PIERO BARDUCCI-
VORTICE MAIL ART-SIXTEENTHSTUDIO GIOVANNI STRADA-MAURO EMILIANO
(NELLA VERSIONE BBS-BANCA DATI CE NE SONO PIU' IN QUELLA SU DISCO DUE
DI MENO...sorry).
**** all graphic files are *.tif * i flies grafici hanno estensione
and are paked, you must explode .tif, purtroppo anche questa volta
it and try to see by something like sono riservati a chi ha programmi
xerox Ventura- next time we hope tipo ventura, speriamo di far meglio
to do better!!!!!! col prossimo numero!!!!!!!
To extract the graphic files you Per esplodere i flies grafici e'
need an hard disk with abuot necessario un hard-disk con almeno
720 K free ,copy in it the files 720 K liberi dove copiare dal dischetto
PKUNZIP.EXE and MAIL-ART.ZIP i file PKUNZIP.EXE e MAIL-ART.ZIP
and then digit: per poi digitare:
PKUNZIP MAIL-ART.ZIP C:
in some time you will see 10 files in poco tempo vedrete nascere dieci
born from one ! PKZIP and PKUNZIP files da uno! PKZIP e PKUNZIP sono
are under copyright of: programmi della ditta:
PKWARE INC
7545 NORTH PORTH WASHINGTON ROAD
GLENDALE, WI 53217 USA

IF YOU SEND 5 DOLLARS TO INVIANDO LIRE 5000 A
GIOVANNI ROMIZI GIOVANNI ROMIZI
VIA FAVARONE 10 VIA FAVARONE 10
06100 PERUGIA (ITALY) 06100 PERUGIA
YOU'LL BE SURE TO RECEIVE SI AVRA' DIRITTO ALL'INVIO
THE NEXT ISSUE DEL PROSSIMO NUMERO
TO THE NEXT "ADENOIDI SOFT" !!!
Perugia, via Favarone,10, fine Febbraio 1990
GIANNI ROMIZI
(the editor)
link per scaricare il file originale ADE2.zip sotto DOS
e il file di mail art ADE2.mail.art.zip