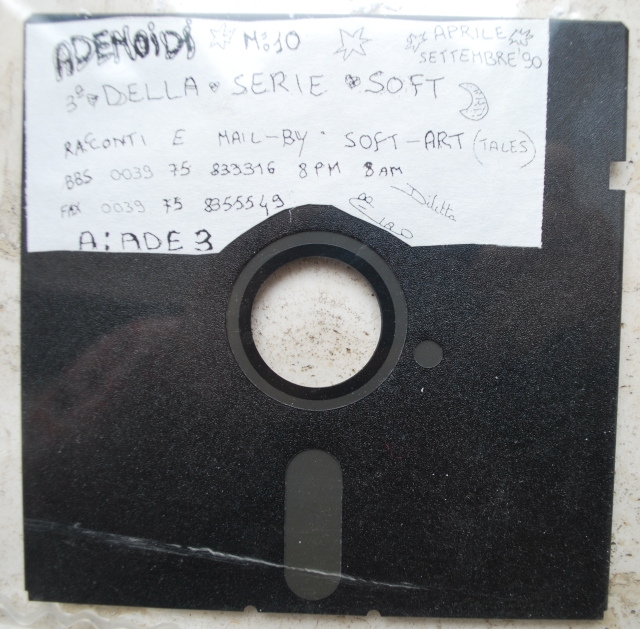 N.B. RIELABORATO per perugiamusica DALL'ORIGINALE IN DOS - 20110725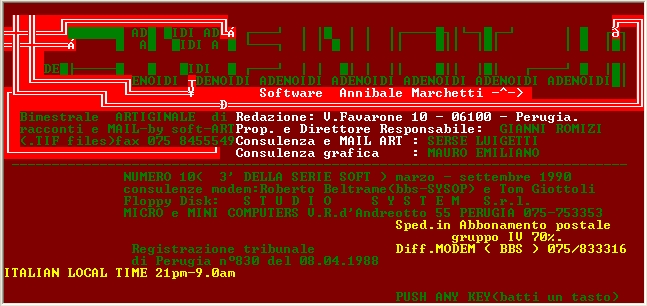 ***************************************da questo numero 10
(terzo della serie soft-aprile/settembre 1990)
E' OPERATIVA ANCHE LA BANCA DATI:
"ADENOIDI BBS
8 PM TO 8 AM (ITALIAN LOCAL TIME ) & IL WEEK END
(300 TO 2400 N 8 1)

please be free connected with ADENOIDI BBS !!!!!!!!
NO LIMITS OF LANGUAGE
ADENOIDI: a TWO MONT
ARTISAN REVIEW OF TALES
GRAPHIC(mail-by soft-art)
& varius REALITY

I HOPE THAT YOU CAN SEND US SPERO CHE CI INVII UN TUO
YOUR FEELING WRITTEN IN SCRITTO IN ASCII
ASCII OR ON PAPER O SU CARTA
IN ANY LANGUAGE YOU WANT NELLA LINGUA CHE VUOI
LITTLE NOVELS, "HAICU'" & MAIL-by soft-ART IS OUR INTEREST !!!!
WE MAKE ALSO: TRASFORMIAMO LA MAIL-ART
MAIL - by soft - ART IN TRACCE MAGNETICHE DA
LEGGERSI SUL VIDEO

on this issue,short tales in questo numero racconti
sent to "adenoidi" by: inviati ad "adenoidi" da:
BRUNO MANGANI
via della Concordia 26
06100 PERUGIA.
Keith Lehmann, Product Mgr.
Automotive Division
JBL international
8500 Balboa Boulevard Northridge
CA 91329 USA
USSR 117334 MOSCOW
KOSIGINA STR 13 FL 188
TURCHANINOV IGOR
glen anthony joseph provenzano
SALVATORE DE ROSA
VIA GRAMSCI 22
84015 NOCERA SUPERIORE
SALERNO - ITALIA
ANGELA CRESPI
VIA LOMBARDIA 30
BUSTO ARSIZIO VA
Corrado Guzzonvia Orelli 3 20035 LISSONE MI)
GIAMPAOLO TURCHETTI
06068 TAVERNELLE PERUGIA
di Benedetto Lo Giudice
Luca Aglietti
via del Lino
06110 Perugia
di Alessandro Ramalli, via Limite, 78
50013 Campi Bisenzio (FI)
ENRICO MUZZIOLI
Via Cagni, 7
Reggio Emilia
Lib. Acc.Univ. Pop.VELARDINIELLO Dott.ALDO ZOLFINO
Ripart.contro Handic. & Emarg. Via Marc'Antonio, 41
Sez.St.e Program.-Redaz.Riv. 80125 - NAPOLI
Accett.Bibliot.Soc.GRATUITA
Dipart.Collab.Edit. e Recens.GRATIS
Capo Add. resp.Uff.St. e P.R.
Pres.Rett.Giorn.Prof.Dott.
.KAZUYOSHI TAKEISHI......
SATSUKISO, 3-11-17, AMANUMA, SUGINAMIKU, TOKYO, 167,JAPAN

di ALESSANDRO CORSI
Via Mentana 127
57125 Livorno

PASIAN MARCO
v. s. elisabetta, 43
30026 PORTOGRUARO (VE)
BERNARDO ROMIZI
ANNI 9 CLASSE 4 A
SCUOLA P.CIABATTI

ALESSANDRO NADALINI
SASSO MARCONI
BOLOGNA
THE NURSERY ,52 ROEBUCK ROAD,SHEFFIELD
S6 3G0 ENGLAND
Third Mind is distributed by:
Contempo (Italy)
Play it Again Sam, 67 Rue De Cureghem, 1000 Brussels, Belgium
A.P.T. (U.K.)
SPV (Germany)
New Rose (France)
Pengiun (Greece).

For more information on IN THE NURSERY contact Ian at THIRD MIND
RECORDS, 39 DUNLACE ROAD, LONDON E5 ONF. TEL/FAX 01-985 5728
__________________________________________________________________
MAIL by soft ART from: MAIL by soft ART di:
SHIGERU TAMARU
500 KITA - AMAGASAKI FUSHIMI
KYOTO JAPAN
BECAUSE THE FILE IT ISN'T EASY A CAUSA DELLO SCANNER AD ALTA
TO SEE IT IN YOU AREN'T INVOLVED RISOLUZIONE USATO E DEL FORMATO
ON COMPUTER GRAPHIC DI REGISTRAZIONE DEL FILE TIF
NAW IT'S ALL I CAN DO NON E' AGEVOLE VISUALIZZARLO SE
GOOD WORK! SORRY! BUON LAVORO!
THIS THIRD NUMBER OF ADER-SOFT IL N.3 DEL ADE-SOFT COMPRENDE
COMPREND OTHER MAIL-BY SOFT ALTRI FILES GRAFICI:
PIECES OF ART:
3SEIKO.TIF &
GIAP.TIF TAKEN FROM A JAPAN FRIEND
3PIERO.TIF TAKEN FROM PIERO BARDUCCI
3MARY.TIF TAKEN FROM SOCIETY OF THE HELPERS OF MARY
SHRADDA VIHAR
VEERA DESAI ROAD
ANDHERI WEST, BOMBAY 58
OR
GIANCARLO GIUSTACCHINI
VIA TRENNO 144
20151 MILANO
3VITTORE.TIF TAKEN FROM VITTORE BARONI
SYNTETHIC INTERNAL NETWORK
S.I.N.
170156
I
3DADATA.TIF TAKEN FROM DADATA
P O BOX 33
STILWATER PA 17878
3MAGGI.TIF TAKEN FROM RUGGERO MAGGI
3MORANDI.TIF TAKEN FROM EMILIO MORANDI
V SAN BERNARDINO 88
24028 PONTE NOSSA
BERGAMO ITALY
3ADENOID.TIF POSTPRODUCTION OF A PIECE OF
ANDREA MANTAVANO
V . DI PALMA
LECCE ITALY
TO HAVE IT YOU MUST BE CONNCTED WITH PER AVERE TUTTI I FILE DI MAIL-BY
"ADENOIDI BBS" OR SEND US TEN DOLLARS SOFT-ART CHE NON ENTRANO NEL
FOR THE SHIPPING OF THE 1.44 FLOPPY DISCHETTO POTETE CONNETREVI GRA-
TUITAMENTE CON "ADENOIDI BBS"
O RICEVERLI SU UN DISCHETTO DA 1.44
INVIANDO 12.000 PER LE SPESE
______________________________________
__________
_________________
IF YOU SEND 5 DOLLARS TO INVIANDO LIRE 5000 A
GIOVANNI ROMIZI GIOVANNI ROMIZI
VIA FAVARONE 10 VIA FAVARONE 10
06100 PERUGIA (ITALY) 06100 PERUGIA
YOU'LL BE SURE TO RECEIVE SI AVRA' DIRITTO ALL'INVIO
THE NEXT ISSUE DEL PROSSIMO NUMERO
_____________________________________________________________________
"ADENOIDI"PUO ESSERE UTILIZZATA COME SI VOGLIA PURCHE' NON
SCOPO DI LUCRO (E' PERFETTANTE COPIABILE E PUO ESSERE STAMPATA)
________________________________________________________________________
SONO DISPONIBILI I NUMERI ARRETRATI "DI CARTA" DAL N.1 (POCHI)
AL N. 7, INVIARE L.5000 PER OGNI NUMERO+3000 PER SPESE POSTALI
IN FRANCOBOLLI.
"ADENOIDI" E' REGISTRATA COME TESTATA GIORNALISTICA
AL TRIBUNALE DI PERUGIA COL N. 830 DEL 8.4.1988.
TO THE NEXT "ADENOIDI SOFT" !!!
Perugia, via Favarone,10, 13 SETTEMBRE 1990
GIANNI ROMIZI
(the editor)